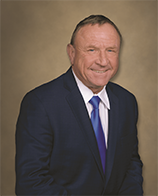 Guy Benjamin
Branch Manager
NMLS: 887909
555 First, Ste 102
Benicia, California 94510
Guy Benjamin has been serving in the Real Estate Finance field since 1987. His expertise and experience in Finance has established him as one of the Bay Area's leading professionals in the field of Real Estate Finance.
He uses his expertise to assist borrowers in all aspects of the mortgage process. His philosophy is to be educator first, with a strong conviction that if the consumer is armed with the best information available they can make better decisions as it relates to the financing of their home. Whether it is a young couple starting out with their first home or an elderly couple seeking income from their home with a reverse mortgage, Guy applies his unique
approach to expertly guide them through the complexities of the process.
Guy has received numerous awards and was most recently honored to receive the Affiliate of the Year award from the Solano Association of Realtors in 2014 and his Branch was named Benicia Business of the year in 2017, by the Benicia Chamber of Commerce.
Guy's expertise has been called on over the years to serve on numerous boards, be a featured speaker at National Mortgage organization conventions, and to write a weekly Real Estate column for the Benicia Herald.
During his down time Guy enjoys racing on sailing yachts and just about anything that brings him near the water.
About Fairway
Whether you're looking to buy, build or refinance your home, our experienced mortgage professionals are here to help. Here at Fairway Independent Mortgage Corporation, we offer a variety of loan options that can help you achieve homeownership with the speed and service you deserve. Plus, our mortgage professionals are dedicated to finding the right loan to meet your specific needs.
Financing a home is one of the biggest commitments you will ever make – let us help guide you throughout the entire loan process from application to closing and beyond. We look forward to putting our mortgage service to work for you!